Library Redesign Project
The goal of this project is to redesign an existing library—in this case, the library at Jefferson High School, one of the schools in the Portland Public Schools district—into a dream library. A detailed outline of the proposed redesign can also be seen here.
Jefferson serves approximately 700 students. The school has suffered from fluctuating enrollment and chronic low achievement. Last year (2011-2012), 707 students were enrolled at Jefferson. The previous years saw numbers of 583 (2010-2011), 621 (2009-2010), and 611 (2008-2009), with a low of 566 in 2006-2007), down from 985 students enrolled in 1998 and numbers above 1,000 in previous years.
Most recently, the school has reorganized into a "middle college" model, which allows students to take concurrent courses at Portland Community College, earning a year or more of college credit as well as a regular diploma.
The media specialist at Jefferson is Nicole Newman. She has been at Jefferson for two years and has been working hard to revamp the library collection. She came into a library with a large number of outdated books in both the fiction and nonfiction collections. After a massive decline in book purchases in the 1990s and 2000, she is working to create a compelling fiction collection and useful and relevant research resources.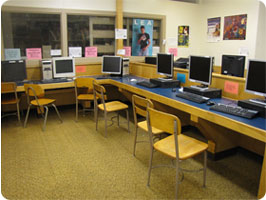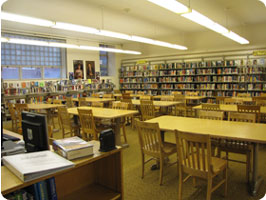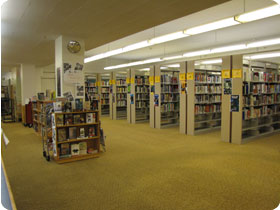 Amy Taramasso
Portland State University
LIB 534: Administration of School Library Media Centers, Fall 2012
Many thanks to Nicole Newman for her patient and thorough answers to my myriad questions, and for letting me invade her space so I could meticulously measure it, and kudos to her for her great work.